Back to all posts
Posted on
Skating Schedule for Gr. 3 - 9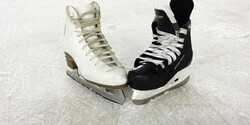 Teachers teaching grades 3 to 9 have booked skating times at the Bentley Arena. Each student will require a pair of skates and CSA approved helmet to participate. Please contact your child's homeroom teacher if they do not have these items as a limited amount of helmets and skates are available at the school. Students will need to dress appropriately for the walk to and from the arena as well as being on the ice. Only school staff and students are allowed in the arena, no exceptions.
Parents are required to log into their PowerShool Parent Portal, click on the School Fee tab and complete the skating permission form. There is no cost associated to this activity. If you have misplaced your parent portal log in information, please contact the office 403-748-3770. 
If you have any questions, please connect with your child's homeroom teacher or the office. 
Skating Schedule
Grade 9: Feb 23 & 25 from 8:45 am to 9:45 am (Contact teacher is Miss. Merriam). Deadline to complete the form is Sunday, Feb 21
Grade 8: Feb 23 & March 24 from 10:00 am to 11:00 am (Homeroom teachers are Miss Allen & Miss Bertin). Deadline to complete the form is Sunday, Feb 21
Grade 7: Feb 25 from 10:00 am to 11:00 am (Homeroom teacher is Mr. Wessner). Deadline to complete the form is Sunday, Feb 21
Grade 6: March 3 & 11 from 10:00 am to 11:00 am (Homeroom teacher are Miss Graham and Mrs. Kimmel). Deadline to complete the form is Sunday, Feb 28
Grade 4: March 9 & 16 from 10:00 am to 11:00 am (Homeroom teachers are Mrs Bilodeau & Mrs. Schofer). Deadline to complete the form is Sunday, March 7
Grade 5: March 18 from 10:00 am to 11:00 am (Homeroom teacher is Miss Howe). Deadline to complete the form is Sunday, March 14
Grade 3: March 11 & 18 from 8:45 a.m. to 9:45 a.m. (Home teacher is Mrs. Ruttan/Mrs. Morrison). Deadline to complete the form is Sunday, March 7