Off-Campus
Off-Campus Education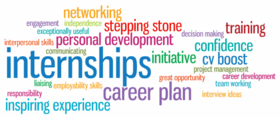 Bentley School offers different off-campus options for high school students - work experience, green certificate and dual credit partnership with post secondary institutions. For more information, please contact the school (403-748-3770) and speak with Mr. Lush.
SWAC - School Within A College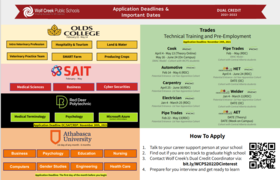 This is an opportunity for grade twelve students to attend Red Deer Poly, SAIT, Olds College or Athabasca University in their last semester of school.  Students will receive high school credits upon completion of this program. 
This joint partnership between Wolf Creek Public Schools and these post secondary institutions allows great training access for our students, supports high school completion and helps students transition into a career path after high school.  The student must have met graduation requirements by the beginning of second semester to be eligible to participate full time in this program.
Work Experience

High School students are capable of earning up to fifteen high school credits. Any high school students interested in work experience must have the pre-requisite course Workplace Safety Systems (HCS3000) completed prior to starting their work experience. Work experience can include part-time employment, summer employment or volunteerism. A contract must be signed by employer, parent, student and school administration prior to work experience commencing. Students will submit monthly hour log sheets to the work experience coordinator.
Green Certificate
The Green Certificate Program provides trainees with opportunities to enter a variety of agriculture-related, structured learning pathways as a part of their senior high school program and to earn up to 16 grade twelve credits and a credential leading to a career in agribusiness. Students learn on the job, under the direction of experienced farm personnel and under the supervision and administration of Alberta Agriculture and Forestry and Alberta Education.
Training Programs Include: Beekeeper Production, Cow Calf Beef Production, Dairy Production, Equine Production, Feedlot Beef Production, Field Crop Production, Greenhouse Production, Irrigated Field Crop Production, Poultry Production, Sheep Production, Swine Production