Back to all posts
Posted on
Youth Internship Incentive Program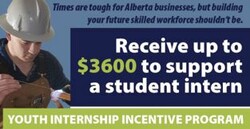 Alberta employers play a critical role in providing hands-on experience and career exploration for youth.  With the launch of an exciting new program, it's never been more affordable to get involved! 
Introducing the Youth Internship Incentive Program, created by CAREERS: The Next generation and supported by the Alberta government and other partners.  Employers can get up to $3600 to support a student, and qualify for up to three interns.  The program covers several industries and offers different funding levels for flexibility. Funds can be used to offset expenses including:
Student wages,
Safety training,
Personal protective equipment, and
Mentorship support.
Alberta schools support the Youth Internship Incentive Program because it opens doors and creates more opportunities for youth.  Educators work closely with CAREERS: The Next Generation to connect dedicated students with employers, providing the best fit for everyone.  Gaining on-the-job experience with businesses like yours gives our interns a head start on career preparation, and it gives employers the chance to show Alberta's next generation of skilled tradespeople what it takes to succeed in their field. Right now, while our province is working to set the stage for economic recovery, is the perfect time to train and cultivate eager young workers who will support your business' success now and in the years to come. You will also be:
Attracting more youth to the industry,
Bringing youthful energy into the workplace, and
Providing mentorship opportunities for your team.
Take advantage of all these benefits without the financial burden.  You can apply for the Youth Internship Incentive Program quickly and easily online.  Funding will be decided on a first come, first served basis.  To apply or learn more, visit www.careersnextgen.ca, or email info@nextgen.org.