Back to all posts
Posted on
Kindergarten Registration for 2021-2022 is Open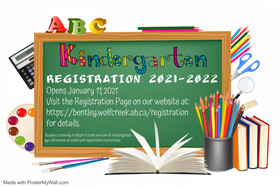 Kindergarten Registration for 2021-2022 is open for new students. Students currently in Bright Futures who are of Kindergarten age have received an email with registration instructions.  Visit the registration page on our website at: https://bentley.wolfcreek.ab.ca/registration. We understand that COVID has impacted the number of students currently attending Bright Futures, so it is going to be very important this year to get those registrations in early to help us plan accordingly for next year. We are excited to welcome new children and families to our school in the coming year! 
Please Note:
A copy of the original birth certificate and other legal documentation (custody orders, etc.) need to accompany registration or comment to when you will be able to submit them. If you need to order your child's birth certificate, click on the link to Alberta Services.
Kindergarten class placements are based on a number of factors including, number of kindergarten registrations received, date kindergarten registration received, program day availability and student needs, not just on parent preference. 
Be sure to select the 2021-2022 Registration Form
If you are a rural student, please remember to register for busing!
Age Requirement: Kindergarten students must be 5 years of age by December 31, 2021 to register for the 2021/2022 school year.  (Wolf Creek Public Schools Policy #300).
Questions?   Having trouble registering during school hours? We will be happy to help! Please call the office at 403-748-3770.