Back to all posts
Posted on
Families in Need Raffle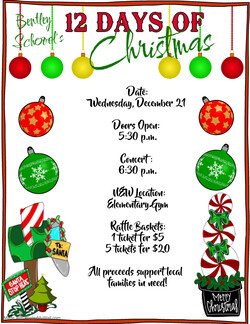 Each year, in the spirit of Christmas, Bentley School staff and students join together to fundraise for families in need through our annual Families in Need Raffle at the Christmas Concert. Funds raised are used at Christmas and throughout the year to support families in our school community with essential gift cards for gas and groceries, school hot lunches, etc.
Bentley School will be collecting gifts or gift cards for each division according to the themes below and raffling them off at our annual Christmas Concert on Wednesday, December 21 at 6:30 p.m. in the Elementary Gym (NEW location!). Donations will be accepted until Friday, December 16. Teachers will be reaching out to parents with ideas on how they can help fill baskets or the gift card tree.
K - Grade 3 - Family Night Basket
Grade 4 - 6 - Gift Card Tree
Grade 7 - 8 - Death by Chocolate Basket

Grade 9 -12 - Home for the Holidays Basket
Tickets for the raffle will be 1 for $5 or 5 for $20 and available for purchase the night of the concert. All proceeds will support families in need in our school community not only at Christmas but throughout the year as well.